Schedules
Athletic Schedules will be posted once complete. COVID-era athletic planning is challenging, but we will do our best to update this information once it is available.
OSAA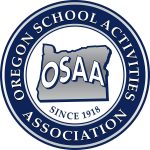 Accommodations Form
---
Children's Safety at Football Games
Parents are reminded that at high school home football games children under grade 7 must be accompanied by a parent or responsible adult. Elementary students will not be allowed into the games on their own. In the event of an emergency there needs to be some adult that can be there immediately for the child. Also, parents are reminded that the playground area behind the elementary school and the court areas in front of the elementary school are not supervised during Santiam Jr. /Sr. High School events. Parents should not drop off students or let students come to the games unless they attend with the student or make arrangements for another responsible adult to supervise them. Thanks for helping make Santiam events safe and fun.